Unconscious Mutterings says ... and I think ... 
Sleepy ::Bear
Thanksgiving ::Family
Fifteen :: minutes
Authority ::reponsibility
Bangs ::trim
Curled ::ribbon
Young man :: in trouble
Surprised ::delighted
Mistake ::rib
Handle it ::deal
And while we're playing psychoanalytical games... Typealizer thinks that this is the personality profile of this blog:
ESFP - The Performers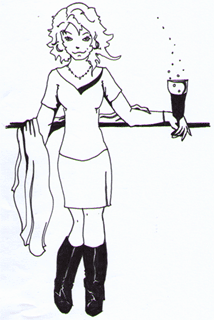 The entertaining and friendly type. They are especially attuned to pleasure and beauty and like to fill their surroundings with soft fabrics, bright colors and sweet smells. They live in the present moment and don´t like to plan ahead - they are always in risk of exhausting themselves.
They enjoy work that makes them able to help other people in a concrete and visible way. They tend to avoid conflicts and rarely initiate confrontation - qualities that can make it hard for them in management positions.

Hm... okay, most of this actually rings pretty true about me.  I do like soft fabrics, and rich colors (not really bright colors, but saturated ones..., and good smells -- not sweet ones really, more spicy... but still, good smells.  And I do enjoy work that makes me able to help other people.  But as for the rest...  maybe the blog won't initiate confrontation... should I make it more like me?
Meanwhile, I'm ready to initiate a blog-related confrontation with TypePad..  My last post took about eight tries to "publish".  I said "go" on Friday, when I wrote it.  It said my changes had been saved. One of those changes, of course, was the change from 'draft' to 'published'.  I looked on Saturday -- it was still a "draft".  Huh?  I said GO again, it said done... I looked today, it said the post was still a Draft.  I said GO DAMMIT... it said, oh, okay... I went... but it didn't.   I finally got it done, but c'mon... it shouldn't be that hard.
Grrr.  Clearly, it's time to write to our "friends" at Typepad.
Meanwhile, today was dash about day.  There were fresh homemade cinnamon rolls at Holly's at 9:00, and then Seasons of Lace work to be done to gear up for Winter of Lace (moving to a new server, making changes based on user comments... finding prize donors) at noon, and taking J to the Humane Society to pick out hamsters by 4:00 and taking C to the eye-glass dispensers by 4:30 to choose frames for the glasses she now needs so that she could have them by 6:00 when they closed.  We  learned yesterday that she'd need glasses, but the eye-glass dispenser is in the mall, and if you think I'm going to the mall on the Saturday after Thanksgiving, you clearly haven't been reading this blog long.   
So.... today involved lots of driving, some of which meant going to the far reaches of town.  Guess what I woke up to?
why yes.... that would be snow outside my back door... Snow deep enough to measure even.
and looking across my back yard we see.... yep... more snow.
Luckily, it's the best kind of snow.  Because, despite what is clearly an inch or two of snow on the ground, the streets and sidewalks did NOT need clearing.
I took that before getting out of my pajamas.  See... no shoveling necessary.  And the snow pretty much stopped before we got out and on the road.  It waited until we were heading home, in the dark, with the new glasses.  C is pleased.  When we first put them on she said "I can SEE!"
I did get some knitting done here and there.  ... between turns in Apples to Apples after the cinnamon rolls, and while waiting at the Humane Society and in the mall..  By morning, I may even have the baby sweater all on one needle again (I'm about 5 rows from finishing the sleeves, and then I'll start the yoke).
All in all, this was a wonderful Thanksgiving weekend.  There was lots of food.  There were lots of friends.  There was lots of love and companionship. I felt embraced as a full fledged member of the family by the people whose celebrations I shared. And there was so much laughter that I do NOT need to do any more ab workouts for a few days. I'm truly thankful to have been able to participate in this weekend's festivities.
</mushy stuff>
Okay December..... I think we're ready!