I know that some of you will read this post and think that I've clearly gone over the edge.  I haven't, I assure you.  You need not call any handsome young men in white coats to come fetch me and take me away.  Nor need you acquire one of those lovely self-hugging jackets for me. I'm okay.  Really.
Even if it does sound weird to have me say that I've now spent enough time looking at individual vertebrae that I can tell you what part of the spine a given bone has come from, and that I find that delightful.
Of course, part of that may be because our instructors have shared some very silly hints with us.  The top two vertebrae are actually pretty easy.  They're very distinctive, and don't actually look that much like the rest. 
Theres the Atlas, for example.  It sits at the VERY TOP of your spine.  It's notable for being pretty flat, and having three holes in it: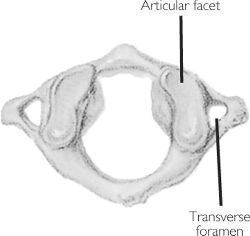 (Pic from the medical dictionary online).
The AXIS comes next.  It's claim to fame is a little knob at the top.  That knob is kind of what lets your head rotate back and forth...
Our friends over at Spine Universe provided this image, which shows you the two, one atop the other.
But the rest of our little vertebral friends... well... they start lookin' like critters.
I'm serious!
Even our instructors say so....
You don't believe me do you?
Well... take the rest of the cervical vertebrae for example.  This one here is the seventh cervical vertebra, as originally shown in Gray's Anatomy, and offered for our viewing pleasure on David Darling's Encyclopedia of Science.
I see that, and I think....
anteater! *1
No?  you don't see it? 
How about this one?
<
*2 Can you see what I see? Does this one help?
I don't know about you, but I see ....
Or this one?  This is a lumbar vertebra as shown to us by the University of Maryland Medical Center.
I'll bet you can't see the moose in that one...
But try this view from Living with Back Pain.org.
C'mon. Admit it. You see the moose.
See.  Bone study can be fun!
It is entirely possible that I would not think it as much fun had I not aced my bone QUIZ today, and if I hadn't come out of the Bone Practical feeling confident.  In fact, the bone practical could have been awful -- there were just individual bones sitting on the table with little numbers taped to them.  We had to identify what ever the bone was -- take for example, the vertebrae above.  Or ... say...
an arm bone. (yes, but which one??).
I can't tell.  Do I just love being back in school and learning things? Or is it learning about the miracles that are our bodies that is so exciting?  Or.. is it simply that by studying Massage Therapy, I've gotten myself in a place where at least some part of my body gets a massage every week?  Nahh... that wouldn't explain the fun of being able to identify most bones (excluding individual hand and foot bones) even without them being in situ.
Have I, in fact, gone over the edge?
*1 thanks  to Gallery of Birds for the pic of the anteater
*2 and thanks to Science Tutor. infofor the first Thoracic vertebra shot
*3  thanks to the African Wildlife & Vacations Guide for the Giraffe
* thanks to Outback Taxidermy for the shot of the moose.