Many years ago, my grandfather left home for college.
When he did that, he took with him a canvas box of sorts.  This box was his equivalent of a very sturdy laundry basket.  It needed to be sturdy, because he would fill the box, and then ship it home, where his clothes were washed, hung to dry, likely pressed, and then folded and shipped back to him.
More recently, Kitty left home for college.
When she did that, she took with her a mesh box of sorts from Bed Bath & Beyond.  They call it a 2-in-1 pop up hamper. It looks like this: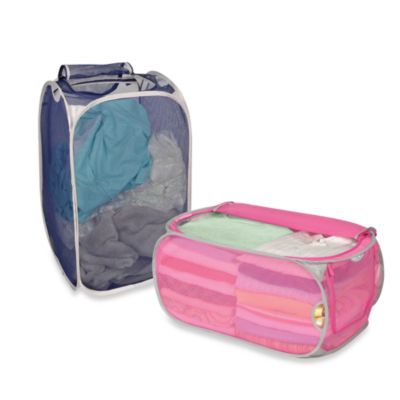 You will note that this is NOT a sturdy object. While my grandfather's laundry box  wasn't in my thoughts when we bought this one, I did not intend this to be able to serve as his did.  Its sheer mesh sides demonstrate that it would be unlikley to withstand shipping of any kind.  In fact, it's pretty susceptible to tearing if one abuses it.  Clearly, it was not intended to serve as a way to have laundry shipped back and forth.
And yet.
Last weekend, my lovely daughter came home with her hamper full of dirty clothes. When she left, it was not quite as full of clean clothes.  This is because she evidently got distracted during the laundry process.  When I went to wash MY laundry, I found a load of jeans and towels lurking in my washer.  Guess whose they are?
If only I had a sturdy canvas box to ship them to her.  Alas, we don't even have a nice box lying about.  At least none large enough to accomodate a large load of laundry.  I will save her this time.  After all, life at college is hard enough without the weather turning cold when you have only shorts and skirts to live in. Not to mention the towel shortage.